【大師講座】Esteemed Expert in EMI: Dr. Jack Richards Delivers Lecture Series and Brought Inspiration of EMI at the College
發布日期 2023-10-23 15:15:00
Esteemed Expert in EMI:
Dr. Jack Richards Delivers Lecture Series and Brought Inspiration of EMI at the College
The College was honored to invite Dr. Jack C. Richard, a globally recognized authority on language teaching and learning, to deliver a lecture series and to give consultations to the College, the faculty, and the students.
Upon Dr. Richards' arrival, he initiated his visit with a brief interlude, preparing himself for the forthcoming stimulating sessions. On the morning of October 19th, a pivotal gathering was convened, uniting Dr. Richards, the college dean, Sandie, and the College Adviser, Bertha, to deliberate on strategies for implementing English as a Medium of Instruction (EMI). One critical insight from this meeting was the strong preference for a novel approach to class observation instead of conventional class evaluations. To nurture a more supportive environment for educators and alleviate any concerns associated with traditional observation practices, Dr. Richards advocated for developing a comprehensive class observation sheet enhanced by teachers' self-reflections, including their specific needs for implementing EMI. Additionally, he recommended establishing a pre-course preparatory program designed to support individuals who may still need to be fully prepared for the course.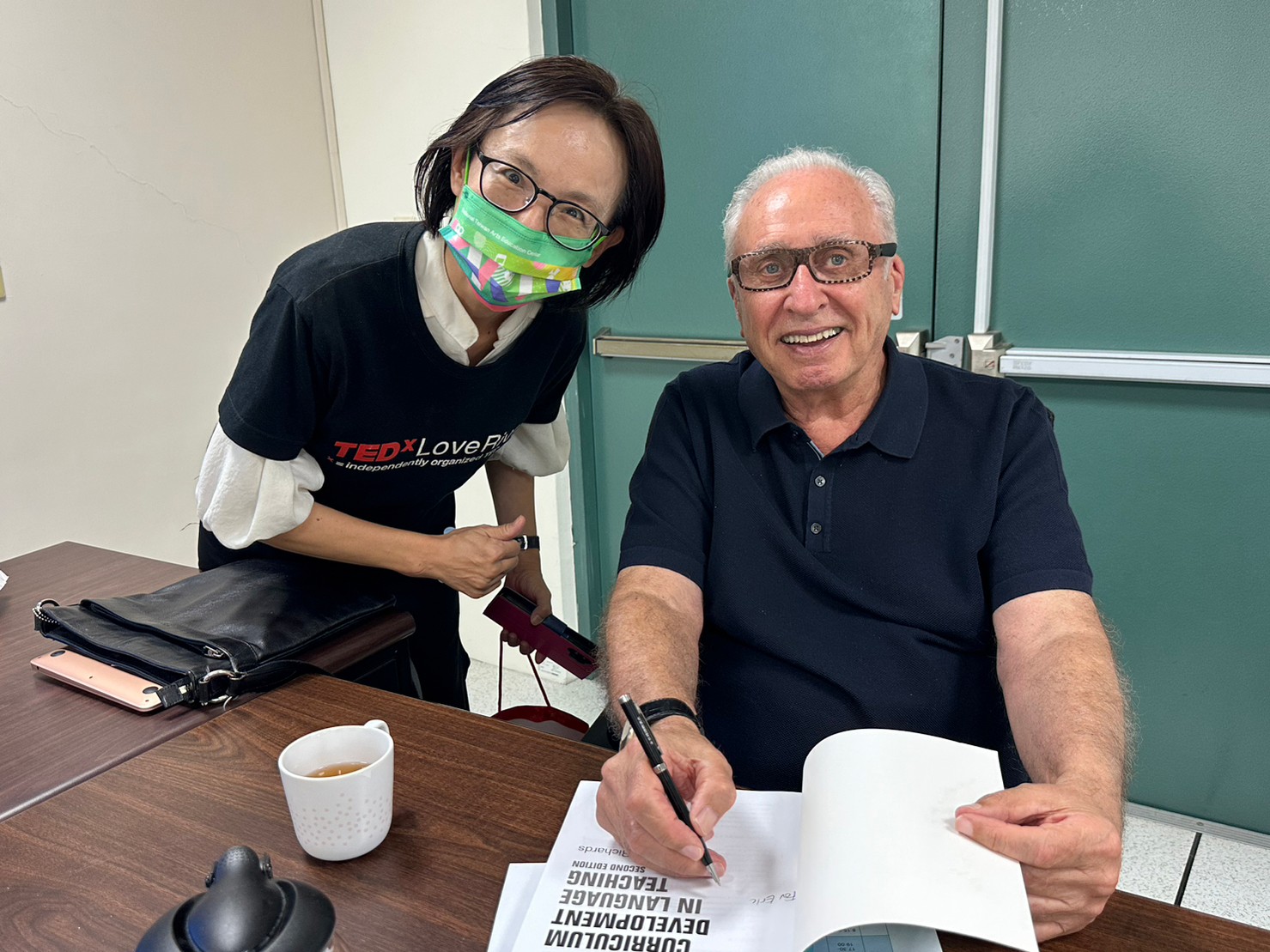 (Dr. Richards discussed strategies for developing EMI courses. As Dr. Richards is highly esteemed worldwide, his fans have requested Dr. Jean Chu from the English Department to sign his works on their behalf at the event.)
The following day, October 20th, marked the commencement of Dr. Richards' lecture series. In the morning session, Dr. Richards imparted his extensive knowledge of EMI practices across various countries. He urged the attending teachers to critically assess their teaching methods and reconsider their classroom activities, offering a comprehensive list of diverse task types as a valuable resource to enhance the students' learning experience. In the afternoon, graduate students eagerly sought one-on-one consultations with Dr. Richards, each driven by their aspirations. Some sought guidance regarding their academic career paths, while others focused on gaining deeper insights into pedagogical methodologies.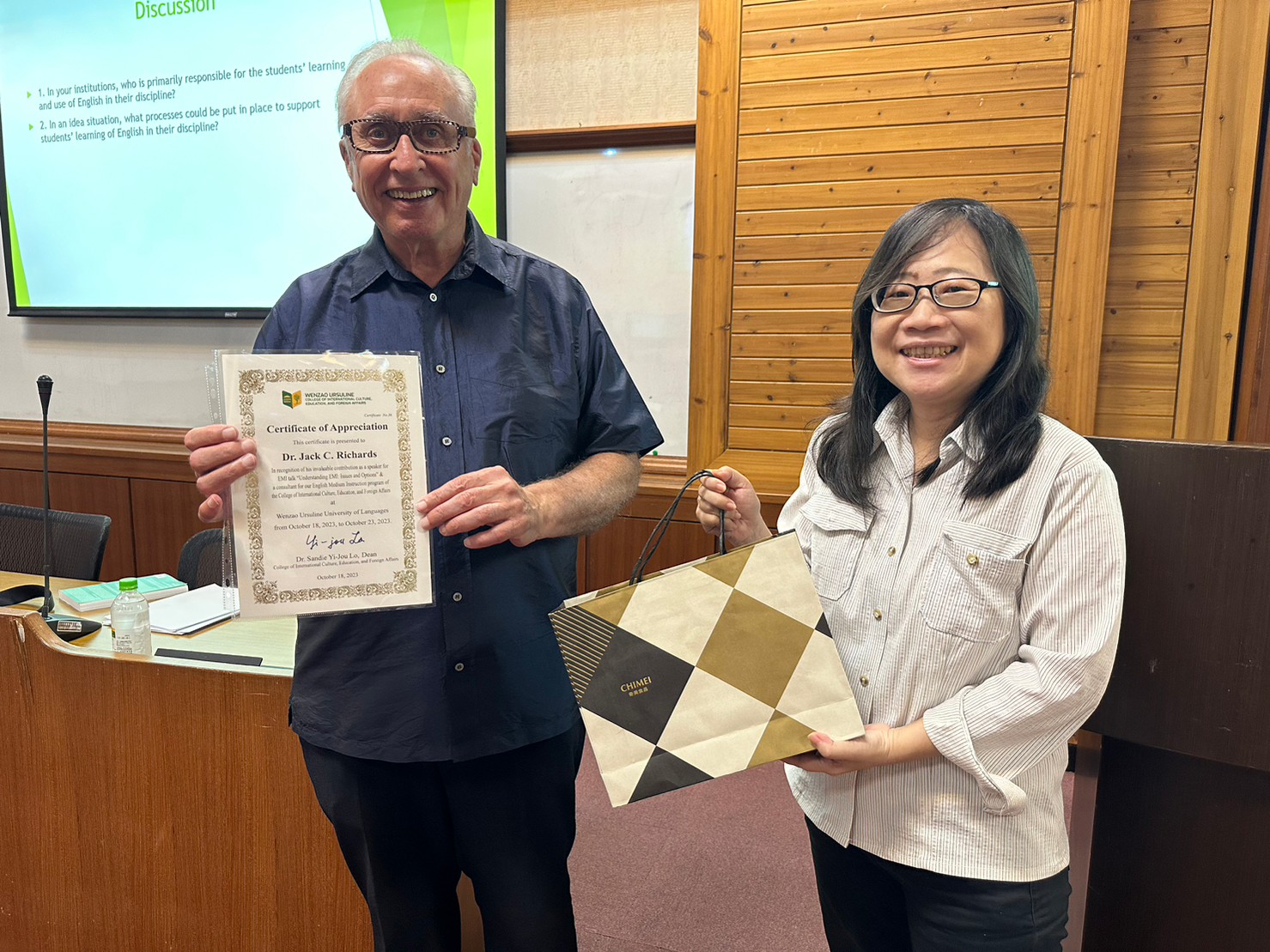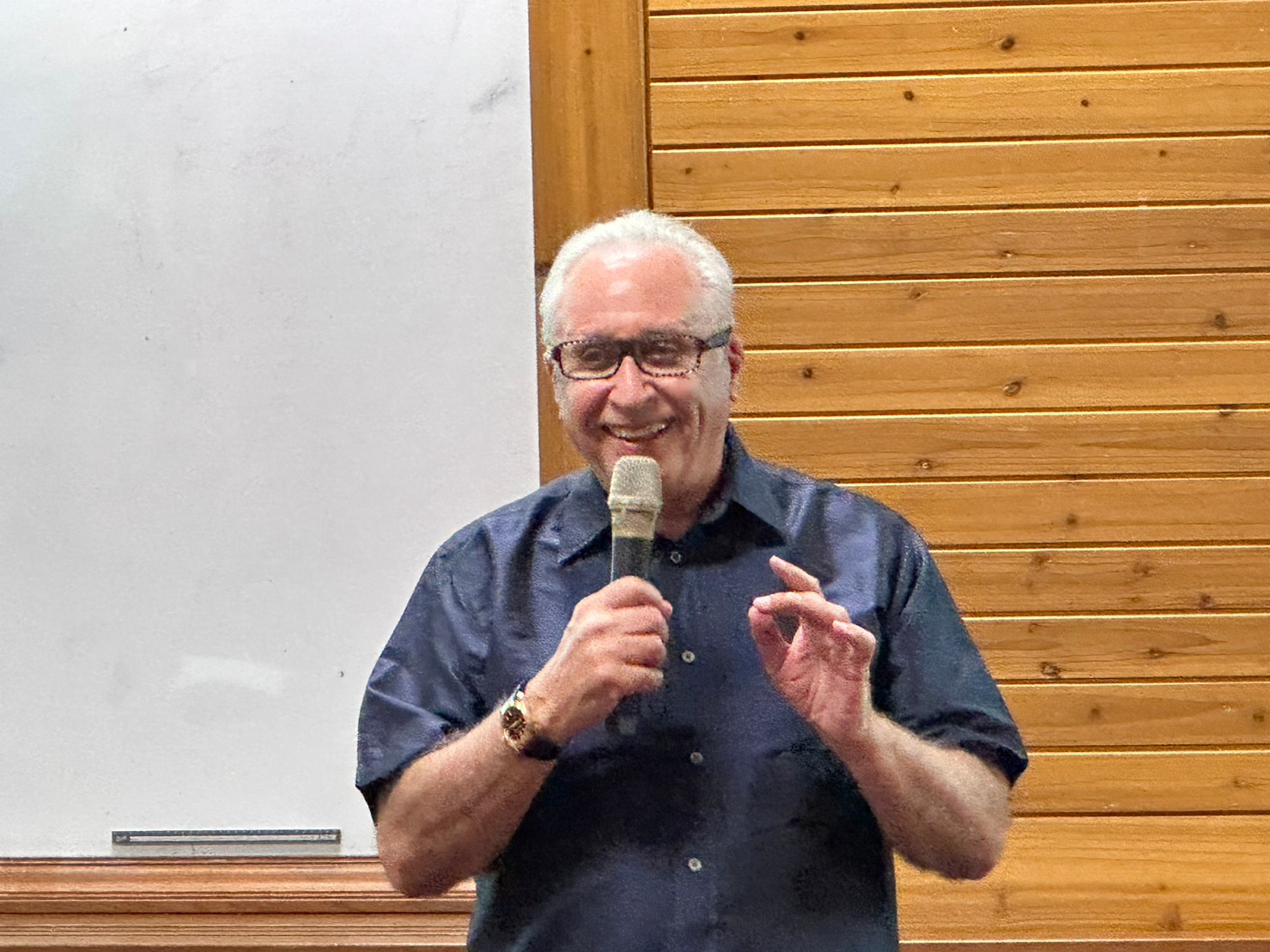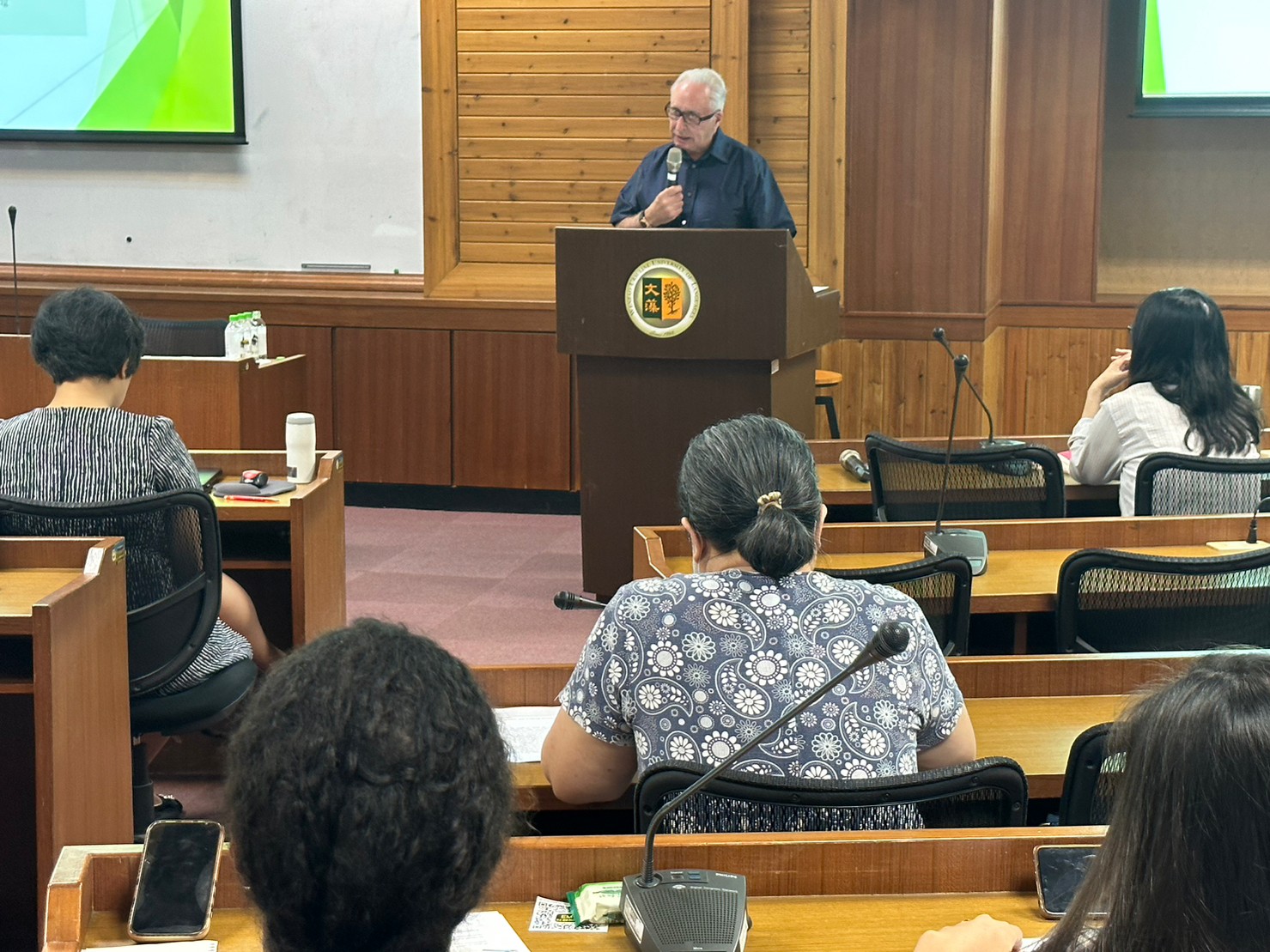 (Dr. Richards shared extensive knowledge about EMI practices in various countries. College dean Sandie expressed her gratitude by presenting him with an appreciation certificate and Taiwan's famous pineapple cakes. Teachers and students enthusiastically engaged in discussions with the speaker, and participated in group discussions.)
On October 21st, Dr. Richards continued his exploration of EMI through an online platform. He shared his research findings on EMI practices in various countries, including Japan, Singapore, the Philippines, Sweden, and more. He raised critical issues such as professional identity and whether translanguaging should primarily serve content or language, encouraging attendees to ponder these crucial questions. After his presentation, Dr. Chuang Hei-ling, the President of Wenzoa Ursuline University of Languages, briefly met with Dr. Richards to express gratitude for his gracious acceptance of the invitation and to engage in an insightful exchange of ideas and experiences.
(President Hwei-Lin Chuang, Vice President Chu-Hsiung Lin, and Dr. Bertha Du-Babcock took a group photo with Dr. Richards.)
(The online EMI Talk began with an opening address by Dean Sandie Lo, followed by an introduction of the speaker by Dr. Vivian Wu.)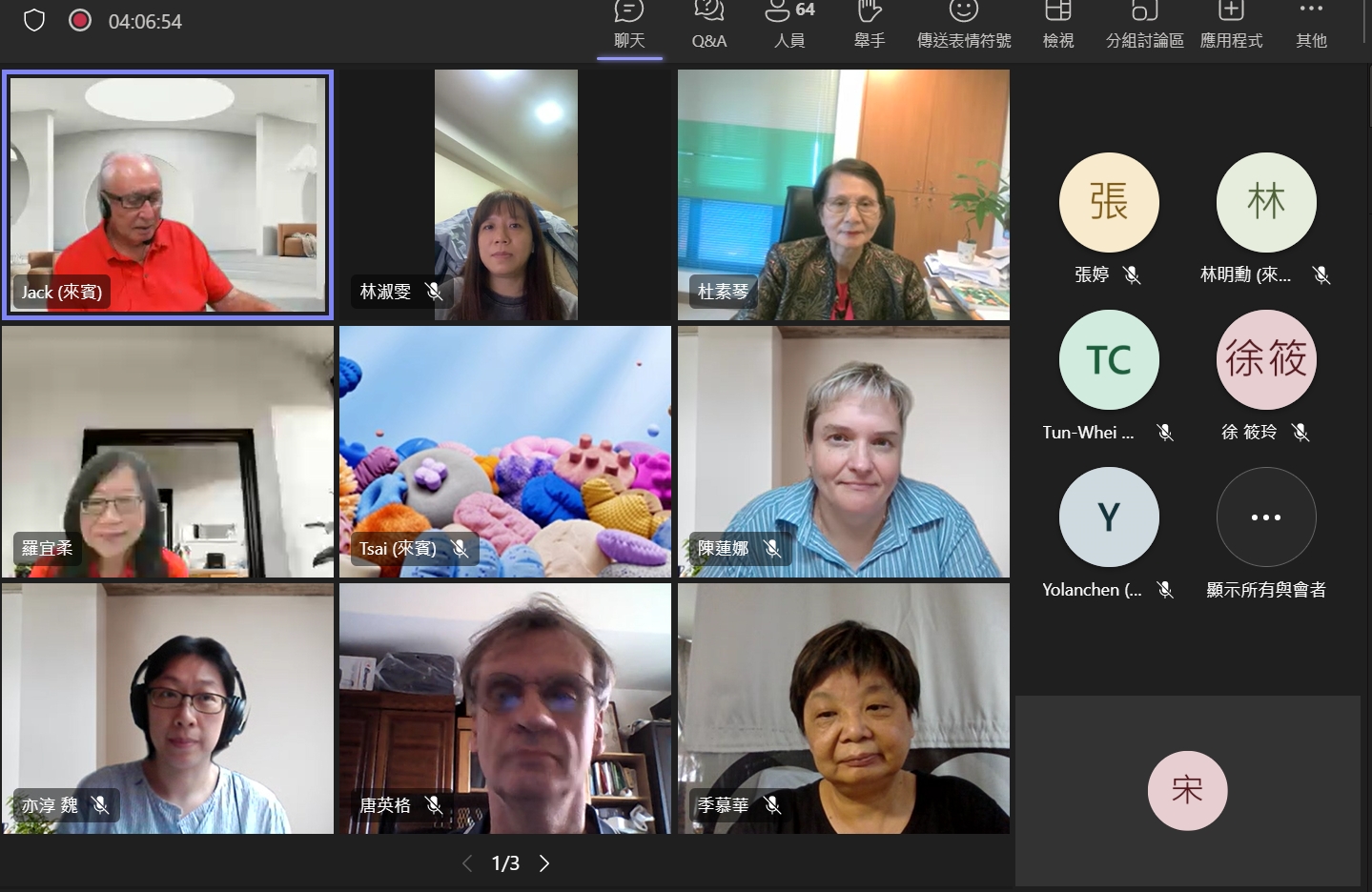 (The EMI Talk concluded with a group photo)
Dr. Jack Richards' visit to the College has made an indelible and invaluable contribution to the implementation of EMI, offering innovative concepts and pragmatic counsel to cultivate a more dynamic and efficacious approach to language instruction, especially in the context of EMI. We extend our heartfelt gratitude to Dr. Richards and eagerly anticipate his return in the future.